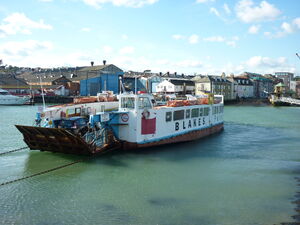 The Cowes Floating Bridge, often shortened to just the Cowes Ferry, is a Chain ferry operating on the Isle of Wight. As there is no bridge serving the neighbouring towns of Cowes and East Cowes, the ferry is the fastest way to cross between the two, and is favoured because the only other option is to take a detour across the island to get from East Cowes to Cowes which can take up to an hour. One ferry crossing across the River Medina takes roughly 2-3 minutes.
History
Before any kind of floating bridge existed, a rowing boat ferry operated between Cowes and East Cowes transporting pedestrians only. This service was owned and operated by the Roberton family from 1720 to 1859. From 1842 cars and animals could be transported across using a pontoon which was winched across under horse power. In 1859 the Floating Bridge Company was formed and bought the ferry rights. From 24 November 1859 the first steamboat was used, built on the River Itchen in Southampton. In 1868 the ferry was bought by The Steam Packet Company (which now trades as Red Funnel), and bought a new ferry for the service in 1882. This was used regularly until 1896 when it was used only as a spare when a new ferry was purchased. In 1909, the ferry's ownership was passed over to the local authority, which continues to run it to this day.
The current ferry, Bridge No. 5, was installed in 1975, and has a capacity for 20 cars at a time.
Prices
As of August 2008 onwards, the one-way toll for a car, van, tractor, or motorcycle and sidecar was set at £1.50. Motorcycles are £0.90. Foot passengers and cyclists may cross for free. Books of tickets are available giving discount to regular users of 20 for £17.50. In 2009 the Isle of Wight Council were planning to reduce the discount given through the scheme. The decision was however reversed due to the impact this would have on residents and visitors. From April 2010, due to a large deficit in the Isle of Wight Council's budget the standard one-way toll at £1.50 is set to be increased to £1.80.
Ad blocker interference detected!
Wikia is a free-to-use site that makes money from advertising. We have a modified experience for viewers using ad blockers

Wikia is not accessible if you've made further modifications. Remove the custom ad blocker rule(s) and the page will load as expected.