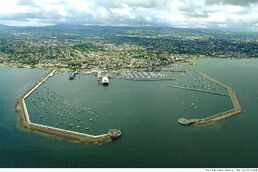 Dún Laoghaire Harbour is a small port that is situated in Dún Laoghaire, a seaside town twelve kilometres from Dublin city centre. Dún Laoghaire is one of Ireland's main links to Britain, with Stena Line providing a service to and from the Port of Holyhead in Wales. The Stena Explorer, which is one of the largest catamaran ferries in the world, operates here. Formerly, the Stena Lynx III would replace the Explorer during the winter months, but she was sold, leaving the Explorer to cover the entire year. No cruise ferries operate from Holyhead to Dún Laoghaire. They instead operate between Holyhead and Dublin.
Ad blocker interference detected!
Wikia is a free-to-use site that makes money from advertising. We have a modified experience for viewers using ad blockers

Wikia is not accessible if you've made further modifications. Remove the custom ad blocker rule(s) and the page will load as expected.