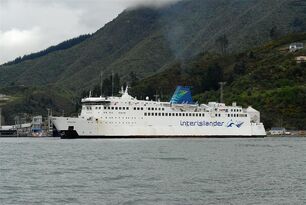 The Aruhura is a roro diesel-electric ferry that is currently owned by the New Zealand based ferry company Interislander. She was built in 1981 to replace the ageing Aramoana and her sister ship, the Aranui on the Wellington-Picton route. She is the second inter-islander to sport the name Aruhura, after the earlier SS Aruhura of 1905. She is notable for rescuing passengers from a sinking cruise liner, the Mikhail Lermontov, which ran aground near Port Gore and sank. The vessel can carry 60 railway wagons, 27 small trucks and 100 private cars. The trip takes approximately 3 hours and 20 minutes. The
Aratere
was built in Denmark at the Aalborg Vaerft A/S shipyard, and has been in service since 1983.
Arahura
is Maori for "Pathway to Dawn". Her current port of registry is Wellington, New Zealand.
External Links
Ad blocker interference detected!
Wikia is a free-to-use site that makes money from advertising. We have a modified experience for viewers using ad blockers

Wikia is not accessible if you've made further modifications. Remove the custom ad blocker rule(s) and the page will load as expected.