When going to France Dover - Calais is the most common route to go on. You have P&O's ferries and the Eurotunnel. Some people like one, some like the other. This page describes some differences.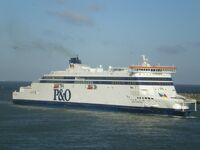 First of all, P&O's ferries have more features and are cheaper. Two of them are also very new, offering lovely relaxation. You can take more stuff onboard if you are a car passenger meaning that you can take most stuff. This lets you take sharp tools such as scissors, knitting needles and razors.
On the Eurotunnel it goes from Folkestone to Calais roughly. At the Folkestone terminal it is part owned by the channel tunnel and part owned by Welcome Break, MSA operator. Luggage is more limited and it's more expensive but takes less time. You can also bring your car onboard which is put onto the back. Travelling with pets may be limited.
Now you might have made your mind up if you're travelling to France.
Why not share your experiences in this page's talk page?
Ad blocker interference detected!
Wikia is a free-to-use site that makes money from advertising. We have a modified experience for viewers using ad blockers

Wikia is not accessible if you've made further modifications. Remove the custom ad blocker rule(s) and the page will load as expected.