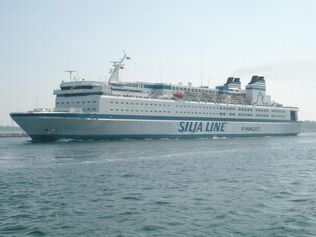 The Finnjet was a famous cruiseferry that was built in 1977 by Wärtsilä Helsinki in Finland for Enso-Gutzeit. She was famous for being the largest, fastest and longest cruiseferry in the world, retaining her title right up until she retired in 2005. She was then partially acquired by Effoa in 1982 until 1986 where the Finnjet was fully transferred to Effoa. In 1993, she was sold to Silja Line. She was to be lengthened by 20 metres, along with a brand new outdoor swimming pool and enlarged cabins, but the plan was too expensive, and was subsequently abandoned. In 2005, the route Finnjet served was closed, thus seeing an end to her active career. Although the ship was put up for sale and there were many efforts to save the ship from scrapping, there were no buyers and the ship scrapping began in 2008. However, the steel used to construct the ship proved to be too difficult to break, and the Finnjet still remains in the same place. The Finnjet Historical Society was set up in 2009, members including captains, chief engineers and crew members of the Finnjet.
Ad blocker interference detected!
Wikia is a free-to-use site that makes money from advertising. We have a modified experience for viewers using ad blockers

Wikia is not accessible if you've made further modifications. Remove the custom ad blocker rule(s) and the page will load as expected.