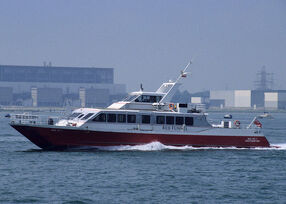 The C.M. Jet 1 was the first of five Red Jets introduced for
Red Funnel
. She was built in 1990 by FB Marine Ltd As the Red Jet 1, along with her sister ship, the then Red Jet 2. She seated 138 passengers. She formerly sailed on the Southampton to Cowes route. The Red Jet 1 was the first waterlet propelled high-speed catamaran ferry on the Solent. She and the now
C.M. Jet 2
were sold to Caspian Mainport in May 2009. They both left the Solent on the 15 May 2009, en route to Saint Petersburg to their new owners. She now operates as a crew boat under the name C.M. Jet 1 and flies the flag of Kazakhstan. She has a top speed of 36 knots.
Ad blocker interference detected!
Wikia is a free-to-use site that makes money from advertising. We have a modified experience for viewers using ad blockers

Wikia is not accessible if you've made further modifications. Remove the custom ad blocker rule(s) and the page will load as expected.