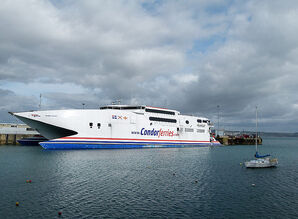 The Condor Rapide is a high speed catamaran ferry that is currently owned and operated by the British ferry company Condor Ferries. She was built in 1997 by Incat, Australia as the Incat 045. She was then briefly chartered to TT-Line for operations between mainland Australia and Tasmania. In 1999, she became most notable for her service as the HMAS Jervis Bay for the Austrailian Navy, until she was decomissioned in 2001. She was chartered again to TRIS, an Italian ferry company. She served for the company until it declared bankruptcy in 2002. She was then laid up in the UK until 2004, when she was chartered once aain, this time to SpeedFerries where she was renamed SpeedOne. In 2007, the SpeedOne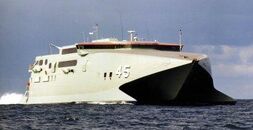 underwent repairs following a collision with the Prince of Wales Pier in Dover. In 2010, she was bought by Condor Ferries where she was renamed as the Condor Rapide and she began service on the route linking the Channel Islands with St Malo, replacing the Condor 10. She has three sister ships, the Condor Vitesse, the Condor Express and the Tarifa Jet. Her current port of registry is Nassau, the Bahamas.
Ad blocker interference detected!
Wikia is a free-to-use site that makes money from advertising. We have a modified experience for viewers using ad blockers

Wikia is not accessible if you've made further modifications. Remove the custom ad blocker rule(s) and the page will load as expected.