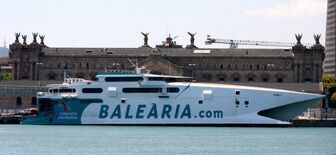 The Jaume II is a high speed catamaran ferry that is currently owned and operated by the Spanish ferry company Balearia. She was built in 1996 by Incat, Australia as the Condor 12 for Condor Ferries. The following year, she was transferred to the company Holyman, was renamed Holyman Rapide and began operations on the English Channel. Hoverspeed eventually bought Holyman and the Holyman Rapide was renamed as just the Rapide. In 2001, the Rapide as transferred to the Liverpool-Douglas-Dublin route. In March 2002, the vessel began operations between Heysham and Belfast, but following a catastrophic fire in August of the same year, the route ceased. The Rapide was repaired in March 2003 and the ferry began operating on the Troon-Belfast route. The Rapide made its last crossing between Troon and Belfast in 2004 before returning for a short time back to her English Channel route between Calais and Dover. The ferry was renamed as the SeaCat Rapide for Hoverspeed. Once Hoverspeed went defunct in 2005, the Rapide was laid up before being sold to Balearia in 2006. She was renamed Jaume II where she was placed on the route that links Barcelona with Ciutadella. The Jaume II has two sister ships, the Sunflower 2 and the Jaume III. Her current port of registry is Las Palmas, Gran Canaria, Spain.
Ad blocker interference detected!
Wikia is a free-to-use site that makes money from advertising. We have a modified experience for viewers using ad blockers

Wikia is not accessible if you've made further modifications. Remove the custom ad blocker rule(s) and the page will load as expected.