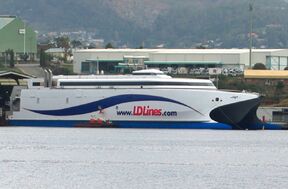 The Norman Arrow is a high speed catamaran ferry that is currently owned by MGC Chartering Ltd and operated the ferry company LD Lines. She was built in 2009 by Incat, Australia as the Incat 066. Upon arrival, she was chartered to LD Lines, originally for the service linking Boulogne with Dover. However the following year, she was transferred to the route that links Portsmouth with Le Havre. She is the largest diesel powered catamaran in the world. She has the ability to accommodate 1,200 passengers and can carry 420 vehicles. She also provides 570 lanemetres. The Norman Arrow underwent repairs when she collided with a mooring dolphin, a device which allows boats to moor in the harbour itself. The Norman Arrow has two sister ships, the Natchen World and the Natchen Rera. Her current port of registry is Nassau, the Bahamas.
Ad blocker interference detected!
Wikia is a free-to-use site that makes money from advertising. We have a modified experience for viewers using ad blockers

Wikia is not accessible if you've made further modifications. Remove the custom ad blocker rule(s) and the page will load as expected.