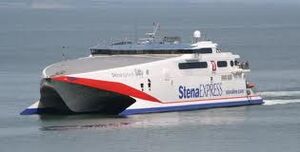 The Sunflower 2 is a high speed ferry that is currently owned and operated by the ferry company Dae A Express. She was built in 1996 by Incat, Australia for Stena Line, where she begn operations on the route linking Dover and Calais, under P&O Stena Line. In 1998, she was transferred to the Fishguard-Rosslare route where she sailed during the summer months. Her running partner was the cruise ferry Stena Europe. She formerly replaced the larger Stena Explorer on the Holyhead- Dún Laoghaire route, while the Stena Explorer was withdrawn during the winter months. In October 2011, she was finally sold to Dae A Express and renamed Sunflower 2. During her long journey from Dún Laoghaire to South Korea, she had an engine failure, just off the Bay of Biscay and is presently being repaired in La Coruna. Her current port of registry is Nassau, The Bahamas.
Ad blocker interference detected!
Wikia is a free-to-use site that makes money from advertising. We have a modified experience for viewers using ad blockers

Wikia is not accessible if you've made further modifications. Remove the custom ad blocker rule(s) and the page will load as expected.