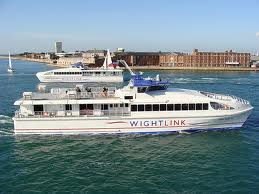 The Wight Ryder II is the second of two new catamarans introduced for the ferry company
Wightlink
. She was built in 2009 by FBMA in the Philippines for the company where she was placed on the route that links Portsmouth with Ryde. She replaced the
FastCat Shanklin
and the
FastCat Ryde
. Both the terminals at Portsmouth Harbour and Ryde Pier were redesigned to meet the vessel's requirements. She has a sister ship, the Wight Ryder I. She is able to accommodate 260 passengers. Both the Wight Ryder I and the Wight Ryder II have been criticised for being too slow and not having the ability to accommodate as many passengers as the previous FastCat's were able to. Her current port of registry is Portsmouth, United Kingdom.
Ad blocker interference detected!
Wikia is a free-to-use site that makes money from advertising. We have a modified experience for viewers using ad blockers

Wikia is not accessible if you've made further modifications. Remove the custom ad blocker rule(s) and the page will load as expected.