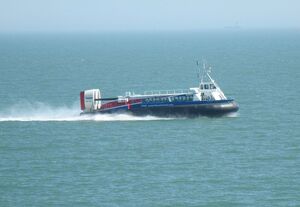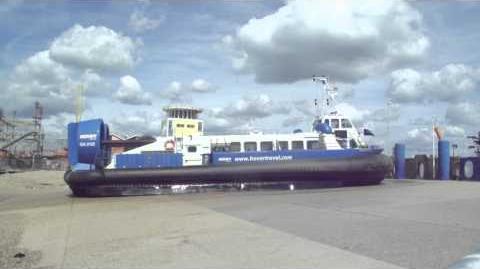 Hovertravel is a ferry company operating from Southsea, near Portsmouth to Ryde, Isle of Wight, UK. It is the only passenger hovercraft company currently operating in Britain since Hoverspeed stopped using its craft in favour of catamarans. Hovertravel is now the world's oldest hovercraft operator. Offering high-speed travel to the Isle of Wight, its main rivals are Red Funnel, with its high-speed Red Jet ferries, and Wightlink.
Hovertravel formed in 1965, and has operated since.
Incidents
On 4 March 1972 Hovertravel's SR-N6 012 overturned off Southsea with a loss of five lives, including one person missing presumed drowned. This was the world's first fatal accident involving a commercially operated hovercraft, and the first fatal accident involving a hovercraft in the United Kingdom.
The craft en route from Ryde to Southsea was hit by a very large freak wave, after a strong beam wind against an adverse tide combined to produce a dangerous beam sea. The hovercraft overturned about quarter of a mile (400 metres) offshore. After rescuing all visible survivors, the hovercraft was towed ashore at Southsea.
Service Restrictions and suspensions
Hovertravel suspends the timetable when the wind reaches gale force 8 and above. The service was suspended on 18 November 2011 after an incident on 30 October 2011 in which the hovercraft Solent Express suffered a propeller failure. Services resumed the following month.
Current Fleet
AP1-88 - Freedom 90 (1990- )
AP1-88 - Island Express (Ex Freja Viking) (2002- )
BHT130 - Solent Express (2007- )
Scotland
Hovertravel hovercraft have occasionally been chartered to operate temporary services across the Firth of Tay between Carnoustie and St Andrews in connection with major golf tournaments (due to Carnoustie's relative lack of hotel accommodation). Also, the Solent Express was chartered to operate an experimental service across the Firth of Forth (marketed as "Forthfast") between Portobello (Edinburgh) and Kirkcaldy between 16–28 July 2007.[8]
Ad blocker interference detected!
Wikia is a free-to-use site that makes money from advertising. We have a modified experience for viewers using ad blockers

Wikia is not accessible if you've made further modifications. Remove the custom ad blocker rule(s) and the page will load as expected.