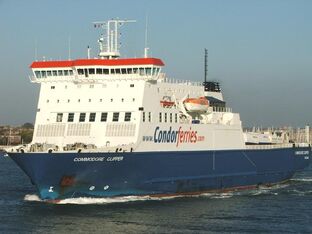 The Commodore Clipper is a ropax ferry that is currently operated by the British ferry company Condor Ferries. She serves the route that links Portsmouth with the Channel Islands. She was built in 1999 at the Van der Giessen shipyards in the Netherlands for Commodore Shipping, but was chartered to Condor Ferries immediately after she was built. A fire broke out on the Commodore Clipper's vehicle deck in the early hours of the 16 June 2010. The fire was caused by an electrical fault. Over 60 passengers were stranded onboard the ferry. Eventually, all passengers safely disembarked the ferry and the fire was put out. The vessel was repaired and re-entered service later that month. Her current port of registry is Nassau, the Bahamas.
Ad blocker interference detected!
Wikia is a free-to-use site that makes money from advertising. We have a modified experience for viewers using ad blockers

Wikia is not accessible if you've made further modifications. Remove the custom ad blocker rule(s) and the page will load as expected.