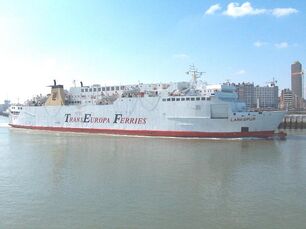 This has been a Featured Article on the wiki.
The Larkspur is a multi-purpose ferry owned by the Belgian ferry operator TransEuropa Ferries. She was built in 1976 as the Gedser and was sold to Gedser-Travemünde Ruten. In 1986, the Larkspur was sold to Sally Line and was renamed as the Viking 2. Two years later, she was sold again to Johnson Line where she was renamed as the Sally Sky. In 1999, she was sold again, this time to TransEuropa Ferries where she was renamed as the Larkspur but remained on the Ostend-Ramsgate route.
Ad blocker interference detected!
Wikia is a free-to-use site that makes money from advertising. We have a modified experience for viewers using ad blockers

Wikia is not accessible if you've made further modifications. Remove the custom ad blocker rule(s) and the page will load as expected.