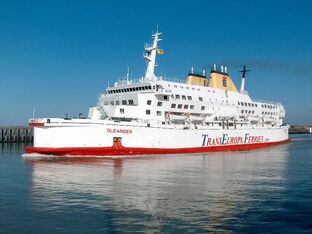 An article on, or to do with this page has been a Featured Photo on the main page
The Oleander is a roro ferry that is currently operated by the Belgian ferry company TransEuropa Ferries. She serves on the route linking Ostend and Ramsgate. She was built in 1979 by Schichau Unterwesser AG in Germany as the Pride of Free Enterprise for Townsend Thoresen. She has two other sister ships, the Spirit of Free Enterprise and the infamous Herald of Free Enterprise. After the Zeebrugge disaster, the Pride of Free Enterprise was renamed as the Pride of Bruges, due to the bad publicity given to the disaster. In 2000, the ferry was put up for sale and was sold to TransEuropa Ferries where she was renamed as the Oleander. She began as a freight only vessel operating between Ostend and Ramsgate. Four years later, the Larkspur joined her on the Ostend-Ramsgate service. Her current port of registry is Limassol, Cyprus.
Ad blocker interference detected!
Wikia is a free-to-use site that makes money from advertising. We have a modified experience for viewers using ad blockers

Wikia is not accessible if you've made further modifications. Remove the custom ad blocker rule(s) and the page will load as expected.