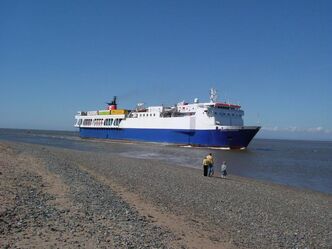 An article on, or to do with this page has been a Featured Photo on the main page
The ANT 1 is a multi purpose roro ferry that was formerly owned and operated by Stena Line, but is mainly a freight vessel than a passenger ferry. She was built in 1975 by JJ Siestas Shiffswerft, Germany for the company where she was named as the Bison. However, she was sold to the P&O subsidiary Pandoro before she entered service with Stena Line. She has two other sister ships, the Anna Marine and the ANT 2. In 1998, she was transferred to P&O European Ferries and was renamed European Pioneer. She was again sold in 2004 to Stena Line where she was renamed as the Stena Pioneer. Her current port of registry is Hamilton, Bermuda. In 2010 Stena Line announced that the Larne - Fleetwood route would be closed due to not making enough money. The ferry's last day in service was December 24th 2010 and has been laid up in Belfast since May 2011.
Ad blocker interference detected!
Wikia is a free-to-use site that makes money from advertising. We have a modified experience for viewers using ad blockers

Wikia is not accessible if you've made further modifications. Remove the custom ad blocker rule(s) and the page will load as expected.