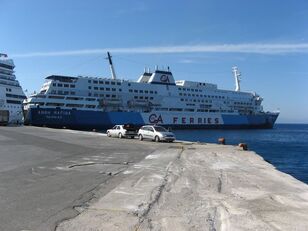 The Anthi Marina is a roro ferry that is owned by the Greek ferry company GA Ferries. She was built in 1979 by Schichau Unterwesser AG, Germany as the Spirit of Free Enterprise for the former British ferry company Townsend Thoresen and was the first of three sister ships operated by the company. Her two other sister ships are the
Pride of Free Enterprise
and the ill-fated
Herald of Free Enterprise
. She served for the company until P&O took over all Townsend Thoresen operations in 1987. After the Zeebrugge Disaster, the ship was fitted with CCTV cameras in the car deck and she was repainted in P&O colours. She was also renamed as the Pride of Kent. In 1991, the ship was extended and rebuilt, a process called Jumboisation. In 1998, she was transferred to P&O Stena Line where she was renamed as the POSL Kent, until 2003 where she replaced and laid up. In 2006, she was bought by GA Ferries, a Greek company, for operations between Rhodes, Kos and Piraeus. She is currently laid up in Piraeus, Greece.
Ad blocker interference detected!
Wikia is a free-to-use site that makes money from advertising. We have a modified experience for viewers using ad blockers

Wikia is not accessible if you've made further modifications. Remove the custom ad blocker rule(s) and the page will load as expected.