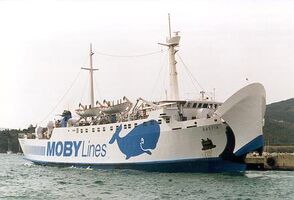 The Bastia is a ferry that is currently owned by Navigazione Arcipelago Maddalenino S.p.A and operated by the Italian ferry company Moby Lines. She was built in 1974 by M&B Benneti in Italy for the company where she was placed on the service that links Bonifacio with Santa Teresa di Gallura. She is able to accomodate 550 passengers and can hold 100 cars. She is just under 75 metres long and has a breadth of just under 13 metres. She has no sister ships. Her current port of registry is Cagliari, Italy.
Ad blocker interference detected!
Wikia is a free-to-use site that makes money from advertising. We have a modified experience for viewers using ad blockers

Wikia is not accessible if you've made further modifications. Remove the custom ad blocker rule(s) and the page will load as expected.