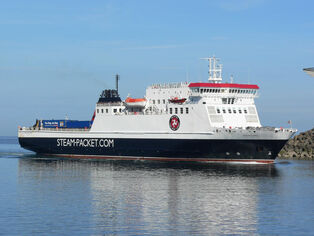 The Ben-my-Chree is a ropax ferry that is owned and operated by the Isle of Man Steam Packet Company. She was built in 1998 by Van der Giessen de Noord, The Netherlands for the company. She sailed from The Netherlands to the Isle of Man and was the first new ship of the company since 1976. She has a low passenger capacity of 500, despite being the flagship of the company and the largest ferry currenty sailing to the Isle of Man. In 2004 though, she was rebuilt, allowing passenger accomodation areas and a new open deck. Her current port of registry is Douglas, the Isle of Man.
Ad blocker interference detected!
Wikia is a free-to-use site that makes money from advertising. We have a modified experience for viewers using ad blockers

Wikia is not accessible if you've made further modifications. Remove the custom ad blocker rule(s) and the page will load as expected.