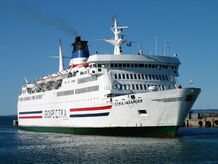 This has been a Featured Article on the wiki.
The C.T.M.A. Vacancier is a car and passenger ferry that is currently owned and operated by the French ferry company, Coopérative de transport maritime et aérien (C.T.M.A.). She was built in 1973 by J.J. Sietas Shiffswerst, Hamburg as the Aurella for SF Line (now called Viking Line). She was sold in 1982 to
Irish Ferries
where she was renamed as the St Patrick II for use on the Ireland to France routes. She was sold in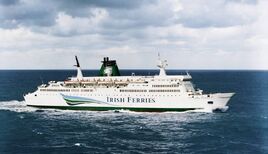 2002 to C.T.M.A. and was renamed as the C.T.M.A. Vacancier and was put on the route linking Montreal with Cap-aux-Meules. Her current port of registry is Port-aux-Meules, Canada.