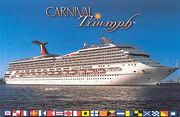 The Carnival Triumph (Officially spelled MS Carnival Triumph™) is a giant, floating monument to fun. Filled with restaurants, lounges, and entertainment options a'plenty. Sounds like a Triumph to us, so it's no wonder this ship got the name CARNIVAL TRIUMPH. It's the ultimate in relaxation and adventure, with lots of awesome amenities, a spa, a friendly casino and lots of other great stuff.
Trivia
The operator chosed to trademark the name of the boat. If it's taken to another operator whether they will be allowed to keep the name or not is unknown.
Deck Plans
Ad blocker interference detected!
Wikia is a free-to-use site that makes money from advertising. We have a modified experience for viewers using ad blockers

Wikia is not accessible if you've made further modifications. Remove the custom ad blocker rule(s) and the page will load as expected.