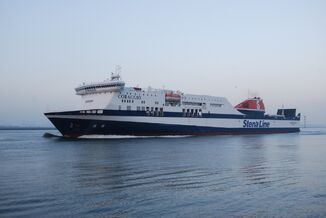 The Coraggio is a large multi purpose roro ferry that is currently owned by Grimaldi Holdings and operated by the ferry company Stena Line. She was built in 2007 by Nuovi Canterie Apuani in Italy for Grandi Navi Veloci. In 2010, she was chartered to Stena Line where she was repainted in Stena livery and was placed on the route that links Killingholme with Hoek van Holland. The Coraggio has seven sister ships, the Forza, the Superfast I, the Superfast II, the Lisco Maxima, the Energia, the Audacia and the Tenacia. She can accommodate 500 passengers and provides 2,623 lanemetres. She has a top speed of 24 knots. She has a gross tonnage of 23,000 GT. She is just under 200 metres long and has a breadth of 27 metres. Her current port of registry is Palermo, Italy
Ad blocker interference detected!
Wikia is a free-to-use site that makes money from advertising. We have a modified experience for viewers using ad blockers

Wikia is not accessible if you've made further modifications. Remove the custom ad blocker rule(s) and the page will load as expected.