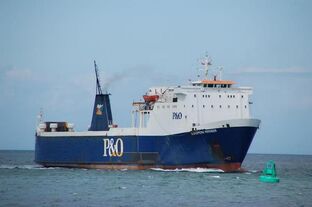 The European Mariner is a freight vessel that is currently owned by Gateway Investments and operated by the ferry company P&O Ferries. She was built in 1978 by Rickmers Rhederei, Germany as the Salahala for Salahala Shipping. In 1990, she was renamed as the Merchant Valiant and was transferred to Merchant Ferries. The service lasted for three years until she was acquired by Pandoro, a subsidary of P&O Ferries. She was later renamed Lion and began operations on the Irish Sea. In 1998, her name was once again changed, this time to her current name, the European Mariner. Throughout the course of 2002, she served for no less than five different companies until she was finally transferred again to P&O Ferries. She retained her name throughout all of her services. She serves between Troon and Larne. The European Mariner has four sister ships, the Kibris Gunesi, the Lider Samsun, the Ranine and the Riverdance. Her current port of registry is Nassau, the Bahamas.
Ad blocker interference detected!
Wikia is a free-to-use site that makes money from advertising. We have a modified experience for viewers using ad blockers

Wikia is not accessible if you've made further modifications. Remove the custom ad blocker rule(s) and the page will load as expected.