The Herald of Free Enterprise was a roro ferry owned by the former ferry company
Townsend Thoresen
. She was part of the Spirit Class of ferries and had two other sister ships, the
Pride of Free Enterprise
and the
Spirit of Free Enterprise
. She was built by Schichau Unterweser in 1980 for Townsend Thoresen. The Herald of Free Enterprise used to sail on the Dover-Calais route. She is notable for her fate in 1987, which would later go down as the Zeebrugge Disaster.
Fate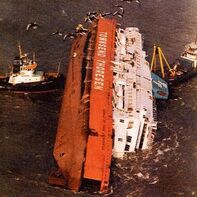 On the 6 March 1987, the ship was not operating on its usual route. She had docked in Zeebrugge, en route for Dover. Before the moorings are dropped, it is usually the duty of the assistant boatswain to close the loading doors. However, he went to his cabin for a short break. The ferry left Zeebrugge with the bow doors remaining open. There was nothing the captain could do, because he could not see the doors open and there was no indicator that they were open, so he assumed that they were closed and the ferry set sail. The ferry immediately began to list and she capsized about a kilometre away from the port. The ferry lay on her starboard side, resting on a sandbar. 193 out of 539 people on board died, due to hypothermia. She was salvaged, towed back to Zeebrugge where she was renamed Flushing Range and sailed to Taiwan to be scrapped, due to the fact that no buyer could be found for the ship.
Ad blocker interference detected!
Wikia is a free-to-use site that makes money from advertising. We have a modified experience for viewers using ad blockers

Wikia is not accessible if you've made further modifications. Remove the custom ad blocker rule(s) and the page will load as expected.