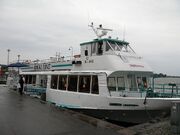 The MS King is a Norwegian ferry operated by Royal Line between Helsinki and Porvoo. The 28 meter long passenger ferry leaves from Helsinki at 10 am daily bewteen late June and mid-August, returning from Porvoo at 3 pm, with the trip taking three hours each way.
In August 2011 the ferry went aground on the island of Lauttasaari in Helsinki, Finland. The master of the MS King was not on the bridge at the time because he was trapped in the toilet due to a jammed door lock, and was unable to open the door. A member of the staff managed to slow the ferry down but could not prevent the crash. Only minor injuries were reported by the 54 passengers on board, who were evacuated to a sister ship. There were also reports of tableware on the boat being broken in the incident. The MS King suffered no hull damage but was unable to free itself, and was pulled free later the same day and towed to a berth at Salutorget.
Ad blocker interference detected!
Wikia is a free-to-use site that makes money from advertising. We have a modified experience for viewers using ad blockers

Wikia is not accessible if you've made further modifications. Remove the custom ad blocker rule(s) and the page will load as expected.