The Moby Lally is a ferry that is currently owned and operated by the Italian ferry company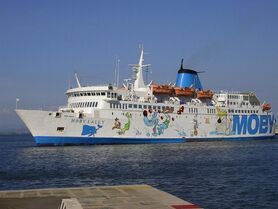 Moby Lines. She was built in 1974 by Schichau Unterwesser in Germany, initially named as the Kattegat II but when she entered service, her name was changed to Kalle III. In 1981 she was sold to the now defunct Juelsminde-Kalundborg Linien. The service only lasted for two years and in 1983, she was sold to Sally Line. She was renamed The Viking. She was once again sold, this time to Moby Lines in 2000 where she was renamed as the Moby Lally and was placed on the service linking Portoferraio with Piombino. She has one sister ship, the Winner 10. Her current port of registry is Napoli, Italy.
Ad blocker interference detected!
Wikia is a free-to-use site that makes money from advertising. We have a modified experience for viewers using ad blockers

Wikia is not accessible if you've made further modifications. Remove the custom ad blocker rule(s) and the page will load as expected.