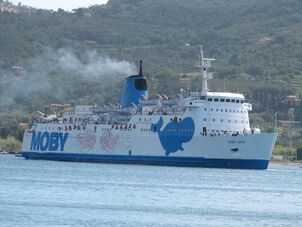 The Moby Love is a multi purpose roro ferry that is currently owned and operated by the Italian ferry company Moby Lines. She was partially built in 1972 by Cantieri Navali di Pietra Ligure in Italy, but because her builders went into bankrupcy, she was not fully completed until 1975. She was named Saint Eloi and was given to Angleterre-Lorraine-Alsace. She was renamed in 1989 as the Channel Entente, but the following year, she was sold to the Isle of Man Steam Packet Company. She was again renamed, this time as the King Orry. She was once again sold to Moby Lines where she was initially renamed as the Moby 2, but her name was changed to Moby Love in 2002. She currently serves on the route that links Piombino with Portoferraio. The Moby Love will remain in active service until 2011. She has no sister ships. Her current port of registry is Napoli, Italy.
Ad blocker interference detected!
Wikia is a free-to-use site that makes money from advertising. We have a modified experience for viewers using ad blockers

Wikia is not accessible if you've made further modifications. Remove the custom ad blocker rule(s) and the page will load as expected.