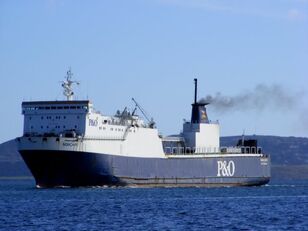 The Norcape is a freight vessel that is currently owned by
Norcape Shipping BV
and operated by the ferry company
P&O Ferries
. She was built in 1979 by Mitsui Engineering, Japan for P&O Ferries as the Puma until later that year, she was renamed as the Tipperary and began service with B&I Line. The service lasted for 10 years until she was renamed as the Norcape and was transferred to P&O North Sea Ferries. In 2002, the subsidary merged into its parent company, P&O Ferries, but the Norcape retained her name, her route and her livery. The Norcape left service in 2010 and is currently laid up in Liverpool. She has one sister ship, the Reyes B. Her current port of registry is Nassau, the Bahamas.
Ad blocker interference detected!
Wikia is a free-to-use site that makes money from advertising. We have a modified experience for viewers using ad blockers

Wikia is not accessible if you've made further modifications. Remove the custom ad blocker rule(s) and the page will load as expected.