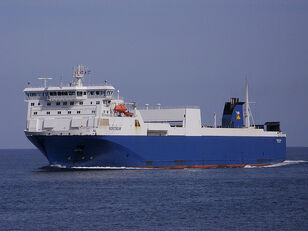 The Norstream is a freight ferry that is currently owned by Bore Sky and operated by the ferry company
P&O Ferries
. She was built in 1999 for P&O North Sea Ferries. In 2002, P&O Ferries acquired all of its subsidaries, including North Sea Ferries. However, the Norstream retained its original name and route. She didn't have to be repainted into a different livery either. The Norstream can only accommodate 12 passengers, but provides 2520 lanemetres worth of freight. The Norstream serves the route that links Middlesbrough with Zeebrugge. She has one sister ship, the Norsky. Her current port of registry is Rotterdam, the Netherlands.
Ad blocker interference detected!
Wikia is a free-to-use site that makes money from advertising. We have a modified experience for viewers using ad blockers

Wikia is not accessible if you've made further modifications. Remove the custom ad blocker rule(s) and the page will load as expected.