This has been a Featured Article on the wiki.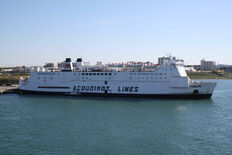 The Penelope is a roro passenger ferry that is currently owned and operated by the Greek ferry company Agoudimos Lines. She was built in 1975 by Schichau Unterwesser in Germany for Townsend Thoresen as the European Gateway. She is most notable for her collision with the ferry Speedlink Vanguard and subsequent sinking on the 19th December 1982. She capsized and rested on a sandbank outside the port of Harwich. Her sinking coincidently resembled the foundering of the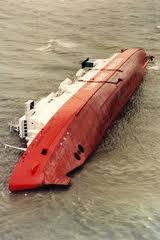 later Herald of Free Enterprise, which also capsized on top of a sandbank. However, the death toll between the two contrast differently, the death toll of the Herald of Free Enterprise was 193, whereas the death toll of the European Gateway was only 6. After her sinking, she was raised, refurbished and acquired by GT-Link. In 1992, she was sold to Europa Linien. She was renamed Rostock-Link. The service lasted four years and she was, in 1996, transferred to DSB Rederi. Finally, in 1999, she was sold to Agoudimos Lines where she was renamed to Penelope and was placed on the routes linking Salonica, Skiathos, Tinos, Paros, Santorini and Iraklion. She has three sister ships, the Gardenia, the Via Mare and the Lina Trader. Her current port of registry is Piraeus, Greece.
Ad blocker interference detected!
Wikia is a free-to-use site that makes money from advertising. We have a modified experience for viewers using ad blockers

Wikia is not accessible if you've made further modifications. Remove the custom ad blocker rule(s) and the page will load as expected.