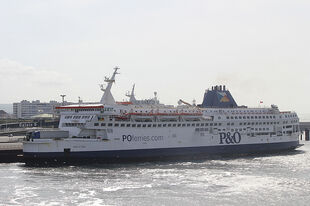 This has been a Featured Article on the wiki.
The Pride of Calais is a ferry that is both owned and operated by the British ferry company P&O Ferries. She was built in 1987 by Schichau Unterwesser AG, Germany for P&O's predecessor, Townsend Thoresen but was repainted in P&O livery just after the Zeebrugge Disaster later that year. She was built alongside her sister ship, the Pride of Dover and has been sailing on the route that links Dover with Calais ever since, but has made a few occasional trips to Zeebrugge in her time. She is due to be replaced in Autumn 2011 by the new sisters, the Spirit of France and the Spirit of Britain.
Ad blocker interference detected!
Wikia is a free-to-use site that makes money from advertising. We have a modified experience for viewers using ad blockers

Wikia is not accessible if you've made further modifications. Remove the custom ad blocker rule(s) and the page will load as expected.