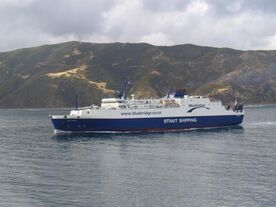 MS Santa Regina
is a roll on/roll off interisland ferry that operated twice daily for
Bluebridge
between Wellington, North Island and Picton, South Island, New Zealand. She was built at
Ateliers et Chantiers du Havre
in France in 1985, and was in service in New Zealand between 2003 and 2015. Before joining Strait Shipping,
MS Santa Regina
sailed an overnight service between Marseilles and Corsica in the Mediterranean. She underwent a make-over in New Zealand in 2002, removing the majority of cabins, replacing them with lounge areas. She carried up to 370 people, cars and freight.
In 2015 she was replaced by the MS Straight Feronia.
External Links
Ad blocker interference detected!
Wikia is a free-to-use site that makes money from advertising. We have a modified experience for viewers using ad blockers

Wikia is not accessible if you've made further modifications. Remove the custom ad blocker rule(s) and the page will load as expected.