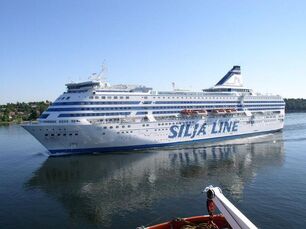 The Silja Serenade is a cruiseferry that is owned by Tallink and operated by the Finnish ferry company Silja Line. She was built in 1990 by Masa Yards for the company EffJohn, where she was placed on the route that links Helsinki with Stockholm. Two years later, she was sold to Silja Line. In 1993, Silja Line acquired the Silja Europa, displacing the Silja Serenade. She was moved the the Stockholm-Turku-Mariehamn route where she serves today. In 2006, the Silja Serenade was sold to Tallink, but has remained serving for Silja Line. The Silja Serenade has a younger sister ship, the Silja Symphony, which accompanies her on this route. She has the ability to carry 2,670 passengers, can carry 450 vehicles and provides 950 lanemetres. Her current port of registry is Mariehamn, Finland.
Ad blocker interference detected!
Wikia is a free-to-use site that makes money from advertising. We have a modified experience for viewers using ad blockers

Wikia is not accessible if you've made further modifications. Remove the custom ad blocker rule(s) and the page will load as expected.