The Stena Adventurer is a large roro ferry that operates between Holyhead and Dublin. She is owned by
Stena Line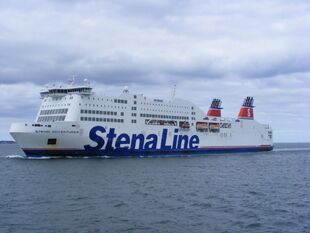 . She was built in 2002 and entered service in 2003. She has a sister ship, the
Stena Scandinavica
which operates between Harwich and Hoek van Holland. She travels alongside the high speed catamaran, the
Stena Explorer
. She shares the Holyhead terminal with the
Ulysses
of
Irish Ferries
, which travels with the Stena Adventurer to Dublin. The vessel is one of the most stable ships in the word, being one of the pioneers of the 'box-shaped hull' design. The Stena Adventurer's current port of registry is in London, England.
Trivia
The Stena Adventurer was featured on the documentary Built from Disaster, which discussed her stability and her bow doors.
Ad blocker interference detected!
Wikia is a free-to-use site that makes money from advertising. We have a modified experience for viewers using ad blockers

Wikia is not accessible if you've made further modifications. Remove the custom ad blocker rule(s) and the page will load as expected.