The Stena Jutlandica is a Swedish registered passenger/vehicle/train ferry that is owned by
Stena Line
. She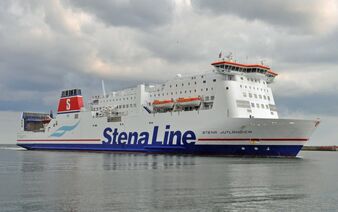 currently operates between Göteborg and Frederikshavn. The Stena Jutlandica is the first of two similar ships built by Van der Giessen-de Noord in the Netherlands. The vessel was launched in March 1996 as the Stena Jutlandica. Prior to entering service, she was called the Stena Jutlandica III, due to the fact that another Stena Jutlandica operated on the English Channel. When that ferry was renamed as the Pride of Telemark, the Stena Jutlandica III was renamed back to Stena Jutlandica. The Stena Jutlandica has one sister ship, the Isle of Inishmore of Irish Ferries. Her current port of registry is Göteborg, Sweden.
Ad blocker interference detected!
Wikia is a free-to-use site that makes money from advertising. We have a modified experience for viewers using ad blockers

Wikia is not accessible if you've made further modifications. Remove the custom ad blocker rule(s) and the page will load as expected.