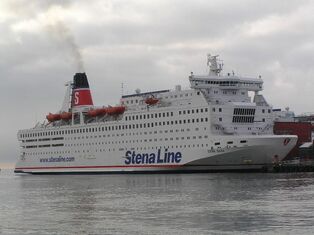 This has been a Featured Article on the wiki.
The Stena Saga is a large cruiseferry owned and operated by the ferry company Stena Line. She was built in 1981 by the Wärtsilä Perno shipyard as the Silvia Regina. She was owned by Suomen Yritysrahoitus but was chartered to Silja Line. She was sold in 1986 to Johnson Line but retained her original name, until in 1988 when she was sold again to Stena Line. She was renamed as the Stena Britannica and entered service in 1991. She was placed on the Hoek van Holland-Harwich route, until she was moved to the route that links Oslo with Frederikshavn, taking the name Stena Saga, which was the Stena Europe's name at the time. She sails on a different route every Monday morning, linking Frederikshavn with Göteborg. She has a sister ship, the Princess Maria of St Peter Line. Her current port of registry is Stockholm, Sweden
Ad blocker interference detected!
Wikia is a free-to-use site that makes money from advertising. We have a modified experience for viewers using ad blockers

Wikia is not accessible if you've made further modifications. Remove the custom ad blocker rule(s) and the page will load as expected.