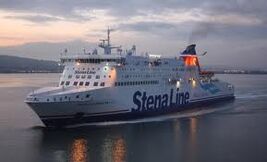 The Stena Superfast VII is a large ropax ferry which is currently owned by Tallink but operated by the ferry company Stena Line. She was built in 2001 by Howaldtswerke-Deutsche Werft in Germany for Superfast Ferries, where she was christened as the Superfast VII. In 2006, Superfast sold their Baltic Sea operations to Tallink. The Superfast VII was transferred to Tallink where she was repainted to Tallink colours. Her route changed to the Rostock-Hanko-Paldiski, however problems occured with this route so the ship reserved her original Rostock-Hanko route. In March 2011, Stena Line announced that the Superfast VII and one of her sister ships, the Superfast VIII, will be chartered from Tallink to serve on their new Cairnryan-Belfast route, renaming the ships Stena Superfast VII and Stena Superfast VIII. The ships entered service on November 22, 2011. The vessels replaced the long serving Stena Caledonia, along with the Stena Navigator and the Stena Voyager. She has three sister ships, the Stena Superfast VIII, the Atlantic Vision and the SeaFrance Molière. The Stena Superfast's current port of registry is Belfast, Northern Ireland.
Ad blocker interference detected!
Wikia is a free-to-use site that makes money from advertising. We have a modified experience for viewers using ad blockers

Wikia is not accessible if you've made further modifications. Remove the custom ad blocker rule(s) and the page will load as expected.