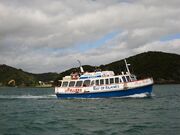 The MV Bay Belle was a small passenger-only ferry run by Fullers operating in New Zealand connecting the townships Paihia and Russell across the Bay of Islands, undertaking 15 return trips per day. She began working the route in 1973 and was retired in March 2011.
Prior to opertaing this route, the vessel began operating in late 1961, delivering coal and other essential supplies to communities in the Bay of Isands. She has been replaced on the Paihia and Russell route by MV Bay Belle II.
External Links
Ad blocker interference detected!
Wikia is a free-to-use site that makes money from advertising. We have a modified experience for viewers using ad blockers

Wikia is not accessible if you've made further modifications. Remove the custom ad blocker rule(s) and the page will load as expected.