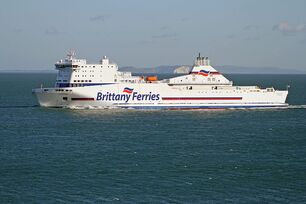 The Cotentin is a freight ferry owned by SOMACOT but operated by
Brittany Ferries
. She was built by Aker Finnyards in 2007. Her maiden voyage was on the 26th November 2007 from Cherbourg to Poole, her regular weekday route. She sails between Poole and Santander on the weekends. She is capable of travelling at 23 knots and has a capacity of 200 passengers and 120 freight vehicles. Her current port of registry is Cherbourg, France.
Ad blocker interference detected!
Wikia is a free-to-use site that makes money from advertising. We have a modified experience for viewers using ad blockers

Wikia is not accessible if you've made further modifications. Remove the custom ad blocker rule(s) and the page will load as expected.