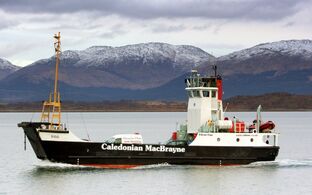 The Eigg is an Island Class ferry that is currently owned and operated by the Scottish ferry company Caledonian MacBrayne. She was built in 1974 by James Lamont & Co in Glasgow for the company where she was placed on the Raasay-Portree route. In 1976, she became the Lishmore ferry, linking Oban with Lishmore. She ran on this route for twenty years before briefly becoming the Kilchoan ferry in 1996. In 1999, she was reinstated as the Lihmore ferry and this is where she remains today. She is the sixth of eight Island Class vessels built by James Lamont & Co. Only two (including the Eigg) are in service with Caledonian MacBrayne. The other being the Raasay. The other six were sold off to different companies. They are the Bruernish, the Coll, the Canna, the Rhum, the Kilbrannan and the Morvern. The Eigg can accommodate 75 passengers and can carry 6 cars. Her current port of registry is Glasgow, UK.
Ad blocker interference detected!
Wikia is a free-to-use site that makes money from advertising. We have a modified experience for viewers using ad blockers

Wikia is not accessible if you've made further modifications. Remove the custom ad blocker rule(s) and the page will load as expected.