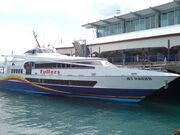 The MV Jet Raider is a passenger-only ferry that operates in New Zealand between Waiheke Island and downtown Auckland. The ferry entered service for Fullers in 1991, and can carry up to 400 passengers. She no longer undertakes the route regularly, having been taken out of regular service due to its instability making passengers unwell. She is referred to by some commuters as the "Vomit Comet" or "Tomb Raider".
The ferry is a jet-propelled aluminium mono-hull boat, the only monohull in Fullers fleet, built by Wavemaster International Proprietary Limited, Henderson, West Australia.
On 27 August 2011, MV Jet Raider was used on the Auckland-Waiheke route due to one of the regular ferries being used for a charter. The vessel stopped between Motutapu and Motuihe Islands after fire alarms sounded, caused by a major engine failure. The 316 passengers on board were evacuated to the MV StarFlyte.
External Links
Ad blocker interference detected!
Wikia is a free-to-use site that makes money from advertising. We have a modified experience for viewers using ad blockers

Wikia is not accessible if you've made further modifications. Remove the custom ad blocker rule(s) and the page will load as expected.