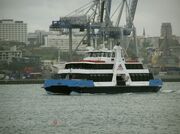 The MV Kea is a passenger-only ferry that operates in New Zealand between Devonport and downtown Auckland. The ferry entered service for Fullers in 1988, and can carry up to 400 passengers. She undertakes 31 sailings daily, which take approximately12 minutes each way.
The design of MV Kea is distinctive by being longitudinally symmetrical, meaning that she can be driven both ways, enabling the vessel to undertake a half-hourly express service without the need to turn around.
External Links
Ad blocker interference detected!
Wikia is a free-to-use site that makes money from advertising. We have a modified experience for viewers using ad blockers

Wikia is not accessible if you've made further modifications. Remove the custom ad blocker rule(s) and the page will load as expected.