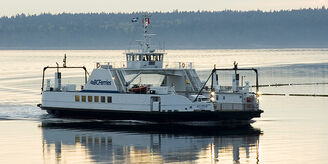 The Kuper is the last of the four K Class ferries that currently operate for the Canadian ferry company,
BC Ferries
. She was built in 1985 as the John Atlantic Burr for the state of Utah until she was sold in 2005 to
BC Ferries
. She was rebuilt in 2006 and was renamed as the Kuper. She entered service in 2007 on the route linking Chemainus with Thetis Island and Kuper Island. She has three sister ships operating for
BC Ferries
. They are the
Klitsa
, the
Kahloke
and the
Kwuna
. She has another two sister ships that used to operate for TransLink. They are the
Kulleet
and the
Klatawa
.