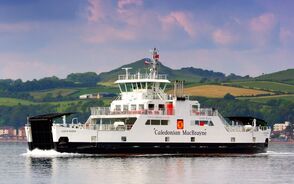 This has been a Featured Article on the wiki.
The Loch Shira is a Loch Class roro ferry that is currently owned and operated by the Scottish ferry company Caledonian MacBrayne. She was built in 2006 by Ferguson Shipbuilders, Scotland for the company where she entered service on the route that links Cumbrae with Largs in June the followig year. She has the ability to accommodate 250 passengers and has a maximun speed of 10 knots. She is 750 GT and carries 24 cars. Her facilities include a large seating area, a small passenger cabin next to the car deck, a café, toilets and a large open seating area, accessible by passengers. She has no sister ships, however she is part of the Loch Class as numerous vessels operated by Caledonian MacBrayne include 'Loch' in their name. Her current port of registry is Glasgow, Scotland, United Kingdom
Ad blocker interference detected!
Wikia is a free-to-use site that makes money from advertising. We have a modified experience for viewers using ad blockers

Wikia is not accessible if you've made further modifications. Remove the custom ad blocker rule(s) and the page will load as expected.