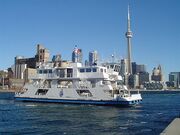 An article on, or to do with this page has been a Featured Photo on the main page
The MV Marilyn Bell is a Canadian ferry, operated by the Toronto Port Authority. It operates one of the shortest routes in the world, a 90-second trip of just 121 metres (397 ft). The ferry operates from a dock at the foot of Bathurst Street, Toronto, to the Billy Bishop Toronto City Airport ("BBTCA"). Beginning operations in 2009 as the TCCA 2, MV Marilyn Bell was renamed in 2010 after marathon swimmer Marilyn Bell, the first person to swim across Lake Ontario, aged 16, in 1954. Ferries run approximately every 15 minutes. The first ferry to the airport leaves the ferry terminal at 5:15 a.m. and the last ferry from the airport to the mainland departs at about 12:07 a.m. One other vessel also operates the route, the MV David Hornell (formerly the TCCA 1).
Ad blocker interference detected!
Wikia is a free-to-use site that makes money from advertising. We have a modified experience for viewers using ad blockers

Wikia is not accessible if you've made further modifications. Remove the custom ad blocker rule(s) and the page will load as expected.