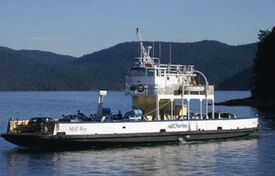 The Mill Bay was a ferry that was owned by the Canadian ferry company, BC Ferries. She was the second smallest of the fleet, being just four metres longer than the Nimpkish. She was also the oldest ferry in the fleet at 55 years old. She was built in 1956 at the Victoria Machinery Depot before BC Ferries had even been established. She replaced the earlier Brentwood on the Mill Bay-Brentwood service. She was sold in 1969 to BC Ferries but stayed on the same route. In 2004, the route celebrated its 80th birthday.
On the 1st May 2011, after 42 years with BC Ferries, she was retired from service.
Ad blocker interference detected!
Wikia is a free-to-use site that makes money from advertising. We have a modified experience for viewers using ad blockers

Wikia is not accessible if you've made further modifications. Remove the custom ad blocker rule(s) and the page will load as expected.