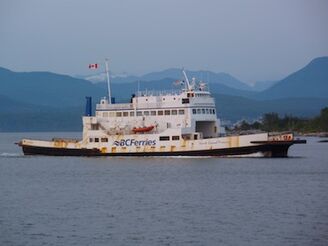 The Northern Island Princess is an unclassed ferry owned and operated by the Canadian ferry company, BC Ferries. As of the 1st May 2011, she is the oldest ferry in the fleet, as the Mill Bay retired on that day. She was built in 1958 by Allied Builders Ltd, Vancouver as the Island Princess for the British Columbia Ministry of Transportation and Highways, but was later renamed North Island Princess, as P&O had bought a cruise ship and named it as the Island Princess. She currently operates on the Powell River-Texada Island route. She became the only catamaran ferry in service with the fleet after the PacifiCats were sold.
Ad blocker interference detected!
Wikia is a free-to-use site that makes money from advertising. We have a modified experience for viewers using ad blockers

Wikia is not accessible if you've made further modifications. Remove the custom ad blocker rule(s) and the page will load as expected.