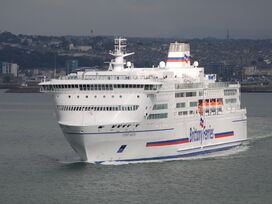 The Pont-Aven is a large cruiseferry that is currently owned and operated by the French ferry company Brittany Ferries. She was built in 2004 at the Meyer Werft Shipyards in Germany for the company where she entered service, initially on three routes, the route linking Cork with Roscoff, the route linking Santander with Plymouth and the route linking Roscoff with Plymouth. She still runs on these routes and two additional routes, Portsmouth with Santander, and in the winter, Portsmouth with St Malo. She has the ability to accommodate 2,400 passengers and can carry 600 vehicles. Her facilities include several restaurants, a shop, a playroom, a swimming pool, multiple lounges, almost 50 reclining chairs and some cinemas. In 2006, a massive wave resulted in the smashing of several windows, causing some of the cabins. The windows were replaced by smaller round windows, whereas before, she had large square windows. The Pont-Aven has no sister ships. Her current port of registry is Morlaix, France.
Ad blocker interference detected!
Wikia is a free-to-use site that makes money from advertising. We have a modified experience for viewers using ad blockers

Wikia is not accessible if you've made further modifications. Remove the custom ad blocker rule(s) and the page will load as expected.