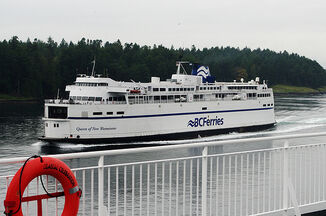 This has been a Featured Article on the wiki.
The Queen of New Westminister is a ferry currently operating for the Canadian ferry company, BC Ferries. She was built by the Victoria Machinery Depot in 1964 for the company and was classed as a V Class vessel. She has six sister ships, four from the V Class and two from the Burnaby Class. The V Class consisted of the Queen of Saanich, the Queen of Victoria, the Queen of Vancouver and the Queen of Esquimalt, all of which are now retired. The Burnaby Class consists of the Queen of Nanaimo and the Queen of Burnaby. Even though she has sister ships, she cannot be considered as a classed vessel
Ad blocker interference detected!
Wikia is a free-to-use site that makes money from advertising. We have a modified experience for viewers using ad blockers

Wikia is not accessible if you've made further modifications. Remove the custom ad blocker rule(s) and the page will load as expected.