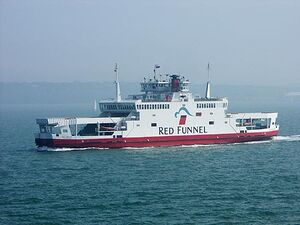 The Red Falcon is a ferry that is currently owned by the ferry company
Red Funnel
. She is one of three Raptor class ferries. The Red Falcon was built in 1994 along with her sister ship, the
Red Osprey
. She operates on the Southampton-Cowes route along with her two sister ships, the
Red Eagle
and the
Red Osprey
. She was refitted and extended in 2004 to increase vehicle capacity.
She is the joint-shortest ferry in the Raptor Class, and is the same length as her Running Mate MV Red Osprey.
2006 Collision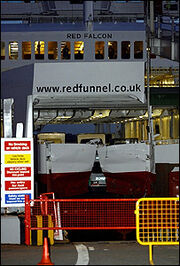 On March 10, 2006 MV Red Falcon collided with the linkspan at the Southampton Town Quay terminal. Eight passengers and one crew member were injured and significant damage was caused to the Southampton end of the Red Falcon and to the linkspan. The collision caused a 15-foot hole above the waterline and buckling of the car deck doors. Due to the buckled car doors, an Ambulance carrying an injured person to a Southampton Hospital, and all the cars and lorries onboard, were prevented from leaving the damaged ferry. The injured patient was transported by lifeboat from the vessel, but everyone else had to remain on board for 7 hours whilst the doors were forced open.
One of the nine injured was said to have been knocked unconscious, while another had broken fingers.
2014 Refit
In Late 2013, MV Red Falcon was docked at Portsmouth for her annual refit. However, her structure was also added to, including the addition of two passenger lounges on the upper decks, and alterations were made so the ship is more eco-friendly. She returned to service in April 2014.
Ad blocker interference detected!
Wikia is a free-to-use site that makes money from advertising. We have a modified experience for viewers using ad blockers

Wikia is not accessible if you've made further modifications. Remove the custom ad blocker rule(s) and the page will load as expected.